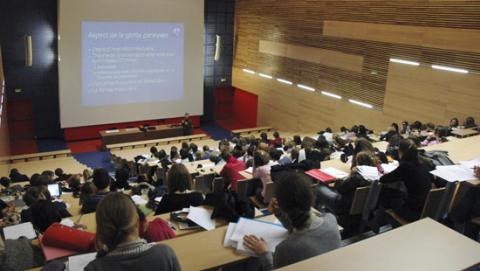 PASS and L.AS
From the 2020-2021 academic year and from the 2019-2020 Parcoursup campaign, to access health studies, the two pathways implemented by Sorbonne University: PASS and L.AS.
Presentation
PASS
The PASS is the Specific Access Health Course, it is a first year, composed of a Health major (health block) and a disciplinary minor excluding health, to be chosen from two minors offered at Sorbonne University:
Biology, Physics and Chemistry for the Faculty of Sciences and Engineering

Language sciences for the Faculty of Letters
LAS
L.AS of Sorbonne University allow access to health care from the 2nd year of license (L.AS2) with two possible applications (L.AS2 and L.AS3).
The health component of these licenses corresponds to 10 ECTS / year, which is equivalent to around 100 hours of distance learning and leading to a semester evaluation.
Sorbonne University has opened eleven LAS for the 2020-2021 academic year:
L.AS Sciences health unit:
L.AS biology geosciences chemistry (BGC)

L.AS physics chemistry geosciences computer science (PCGI)

L.AS Mathematics Computer Physics Engineering (MIPI)
Classes are face-to-face in the Faculty of Science and Engineering.
L.AS Health block letters:
L.AS history

L.AS Letters Audiovisual Media Publishing (LEMA)

Four L.AS languages, literatures and foreign or regional civilizations (LLCER):

English, German, Spanish or Italian

L.AS philosophy

L.AS language sciences
During the three years of L.AS, health education will successively bring the concepts of anatomy, biochemistry, developmental and reproductive biology, histology and embryology, biophysics, biostatistics, pharmacology, physiology and human and social sciences (history of medicine, ethics, health law, psychology and public health) useful for the pursuit of studies in health.
During the first year, the lessons will relate to the 1st semester on Anatomy (1) and Physiology then in the 2nd semester on anatomy (2) and pharmacology.
Access to health studies by the L.AS de SU will be selective on the basis of academic results (disciplinary and health) and oral tests.
The L.AS is the Access Health License, it is a curriculum in a license with a minor health, the application for access in health studies is only possible from the 2nd year of the L.AS.
Contact
Opening to the public:
Monday, Tuesday, Thursday from 9:30 a.m. to 12:00 p.m. and 1:30 p.m. to 4:00 p.m. - Closed on Wednesday and Friday
Desk 24 - 91 bd de l'hôpital
75013
Paris