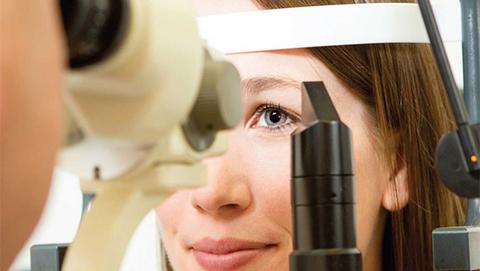 Orthoptics
From the start of the 2020 academic year, access to orthoptic studies is carried out via the Parcoursup platform. You will find the training sheet in orthoptics for more information on: http://parcoursup.fr
Nature
Degree course
National diploma under the authority of the Ministry of Higher Education and Research
Recruitment level
High school diploma
Entrance exam based on the scientific baccalauréat (French high school diploma) programme on physics and life and earth sciences
Duration of the course
6 semesters
Teaching methods
In person
Course location(s)
Pitié-Salpêrière Campus
Pierre et Marie Curie Campus
CHNO Hospital, 15-20
Placements
A combination of placements and classes
• 6 semesters
• Choice from a list set by the teaching department
Accessible in
Initial
Training Further training
The profession of orthoptist
The orthoptist is a medical assistant who prevents, detects, re-educates, rehabilitates and explores vision disorders from infants to the elderly.
Orthoptic studies
The Decree of October 20, 2014 relating to studies for the issuance of the Certificate of Competence organizes the license for the training of orthoptists. Orthoptic studies are organized in 6 semesters of training validated by obtaining 180 European credits corresponding to the bachelor's level.
Three years, including:
In terms of the theory, see the teaching departments' reference system: classes are prioritised over the placements but they do not excuse students from carrying out the total required time for placements every year.
A hospital placement in an ophthalmology department: students are on placement for an average of 5 to 6 half-days per week. They are assigned to hospitals in Paris or on the outskirts based on the preferences they chose at the beginning of each academic year.
Students' preferences will be taken into account based on how they ranked academically:
for 1st year students: by the mark they obtained in the entrance exam
for 2nd and 3rd year students, by the mark they obtained in the previous year's final exam.
The location of the placement must be different every year.
For university classes, there is an exam for each module at the end of each semester of study
The student can enrol in the next year if they are missing a maximum of 3 non-compulsory modules in their 1st year and are missing 2 modules in their 2nd year.
Holidays: unless arranged in exceptional circumstances by the placement supervisor for operational reasons, the holidays are as follows: 2 weeks at Christmas, 2 weeks at Easter and 2 months over summer. Depending on the year, there is either 1 week over Halloween or 1 week in February
Contact
Head of studies : Professeur Valérie TOUITOU
Deputy Head of Studies :
Karine LAGRENE and Frédérique BRION
Contact
91 boulevard de l'Hôpital
75013
PARIS