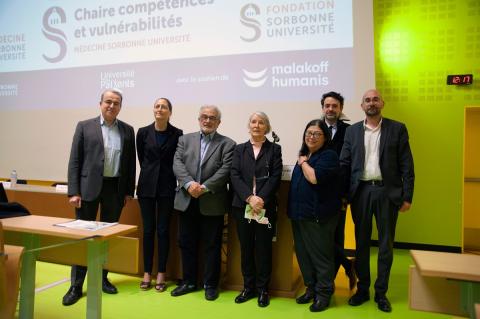 The Patients' University: the Inauguration of the Skills and Vulnerabilities Chair
The Patients' University at Sorbonne University created a Skills and Vulnerabilities chair to promote learning and life experiences in vulnerable situations. This chair also offers recognition for the status of Patient Partner. On March 22, the inauguration of this chair was held at the Faculty of Medicine with the Dean, Bruno Riou, and the founder of the Patients University and now the chair, Catherine Tourette-Turgis.
Catherine Tourette-Turgis is a university professor and researcher with an atypical background enriched by her experience with patients in vulnerable situations. The creation of the Patients' University, in 2010, was an important step in her professional and personal life. This idea came to her after ten years spent in San Francisco, where she had already developed a model for supporting patients.
The Patients' University is an ambitious program aimed at developing degree programs for patients who want to use their experience of vulnerability to provide expertise to the community. To date, more than 200 patients have graduated from the program.
The Skills and Vulnerabilities Chair is a unique project in the world, supported by Sorbonne University and its Foundation, with the backing of Malakoff Humanis. It represents a new stage of the Patients' University by proposing innovative concepts via new research and teaching themes. "The experience of the Patients' University has shown me how important it is to start substantial work on the conceptualizations available on the theme of skills and vulnerabilities," announced Catherine Tourette-Turgis.
The association of the terms skills and vulnerabilities announces the social dimension that the Chair has chosen to adopt. Indeed, the experience of illness is a trial for the patient, which involves a different relationship to work, life, oneself and one's environment.
People who have had these trying experiences often feel a strong desire to contribute to the community. The Patients' University actively supports this. "Vulnerability can be a mobilizing force when it takes the form of a strong collective commitment," said Catherine Tourette-Turgis.
The integration, recognition and graduation process both integrates and recognizes the status of these expert patients in the new health and research professions. "The status of Patient Partner is not yet well recognized in France. It therefore seemed important to us to begin work to have it recognized and to integrate it into the new health professions," explains Catherine Tourette-Turgis.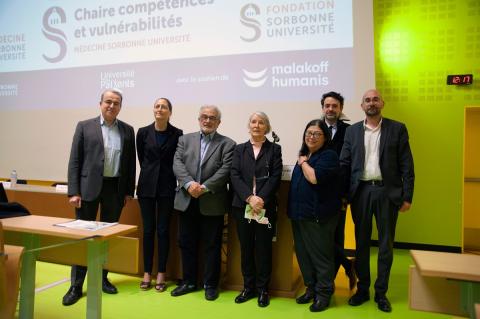 Excerpts from the inauguration speeches
Pierre-Marie Chauvin, vice-president of Arts, Sciences, Culture and Society at Sorbonne University: "Catherine Tourette-Turgis' career path shows what the university can do for society: welcome people, give them tools to treat vulnerabilities...".
Bruno Riou, Dean of the Faculty of Medicine at Sorbonne University: "The chair covers several topics, including health democracy and the crossroads of knowledge between artificial intelligence, medicine, and human and social sciences."
Serge Uzan, vice-president of the French National Council of Physicians: "For the past 12 years, the Patients University - Sorbonne University has made it possible to transform difficult experiences into expertise at the service of the community."